cuz right now, i'm rocking the above look, except mine is over OPI's "lincoln park after dark", so it's sorta like fashion-y space, what with the dark purple and all.
yes, it's time to admit...i'm a sparkle polish FIEND. i can remember rocking holographic rectangular glitter polish from maybelline i think back in high school.
if it looks like it belongs in a drag queen show, i want it on my fingers.
take this beauty, the apparently much-coveted OPI "mad as a hatter" polish from the small alice in wonderland collection.
i just bought it cuz it looked awesome. it's also a BITCH to get off my nails....but it's a price i'll pay for sparkle. (anyone got any secrets for getting this stuff off, without a belt sander?!)
and when it comes to sparkles and drag queens, NOTHING beats a little movie tie-in, featuring cher and xtina.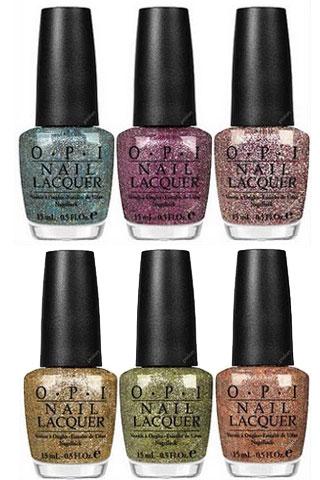 that's right, apparently this winter, instead of the usual holiday OPI collection, they're doing a collection that ties in with the release of "Burlesque".
and i am basically dying.
because it's SIX obnoxious glitter polishes (plus 6 more, but i only have my eye on 1 of those i think...and it's hot pink with hot pink glitter. told you i had a problem.)
if you wanna see all the swatches,
Scrangie
did an awesome job of it...and it's soooo....muchhhh....sparkllleeeeeee
so, i'm anxiously awaiting november 2nd when this bad boy collection debuts....cuz i neeeeeds it.
like....well, like a drag queen needs glitter. i AM 5'10" after all....