if i could pick one thing to magically be for a day, a super special wish....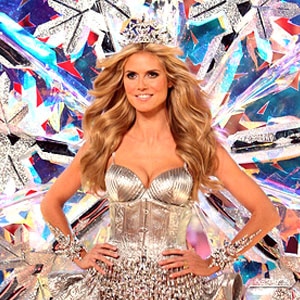 it's this.
a victoria's secret angel, mostly just for the annual fashion show.
i've totally got a legit list of reasons why i could do it right now, minus the whole probably needing to lost 50 pounds to not scare anyone prancing around in my underpants.
1. i'm totally already taller than heidi, who according to wikipedia, is 5'9". i'm 5'10"!!
2. everyone already talks about the way i walk....they joke i always look like i'm on a runway. i think it's the long legs thing...i can't take little steps!!
3. i love sparkly things. and the runway this year was gold glitter!
4. pouty lips? GOT IT.
5. i can wear tall shoes. i'm actually MUCH more graceful in heels than in flats or barefooted.
6. they don't have a redheaded angel. and yes...technically it's fake...but STILL.
anyone else wanna join my angel dream??